The Institute of Plant Breeding-College of Agriculture and Food Science (IPB-CAFS) of the University of the Philippines Los Baños (UPLB) recently launched a new hybrid of Hibiscus rosa-sinensis, named after the British Ambassador to the Philippines and Palau, Her Excellency Laure Beaufils.
The new hybrid, H. rosa-sinensis 'Laure Beaufils,' is part of the UPLB Diplomat Series. It was developed through the project, "Development of New Hibiscus rosa-sinensis Varieties through Conventional Hybridization and Embryo Rescue," funded by the Philippine Council for Agriculture, Aquatic and Natural Resources Research and Development of the Department of Science and Technology (DOST-PCAARRD). This hybrid was bred by Plant Breeder Agripina O. Rasco under the IPB-UPLB Hibiscus Breeding Program.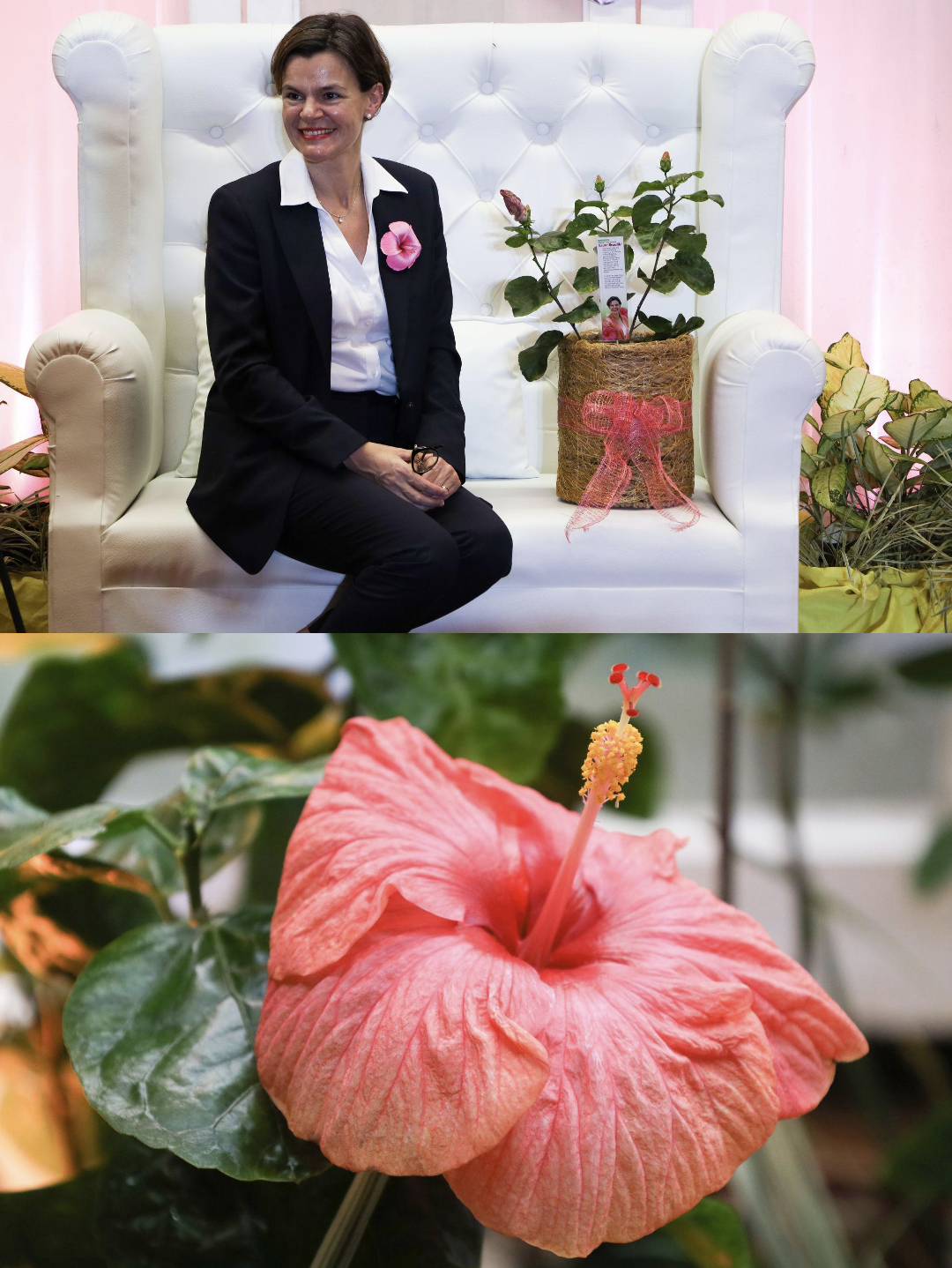 The new hybrid was officially presented to Ambassador Beaufils on September 12, 2023 by UPLB, headed by Chancellor Jose V. Camacho, Jr. Other presenters were Vice Chancellor for Research and Extension Nathaniel C. Bantayan, CAFS Dean Elpidio M. Agbisit, IPB Director Fe M. Dela Cueva, and Ms. Rasco.
"I had never once, in a million years, imagined that a flower would be named after me. This is truly the honor of a lifetime," Ambassador Beaufils expressed in her acceptance speech.
She further noted the significance of the flower's pink color, which holds personal importance to her as it is her favorite.
According to IPB, the hybrid's charm lies in its "vibrant carmine pink flower."
"The petals are enormous, thick, and cartwheel-shaped, embellished with delicate dark pink lines. Its large, deep red core is accentuated by a silver lining and a red halo," as described by the research institution.
Ambassador Beaufils is a known advocate for climate adaptation, economic development, good governance, and social justice.
On behalf of DOST-PCAARRD Executive Director Reynaldo V. Ebora, Crops Research Division (CRD) Director Leilani D. Pelegrina attended the launching with CRD staff, Mr. John Aaron Mark V. Macaraeg.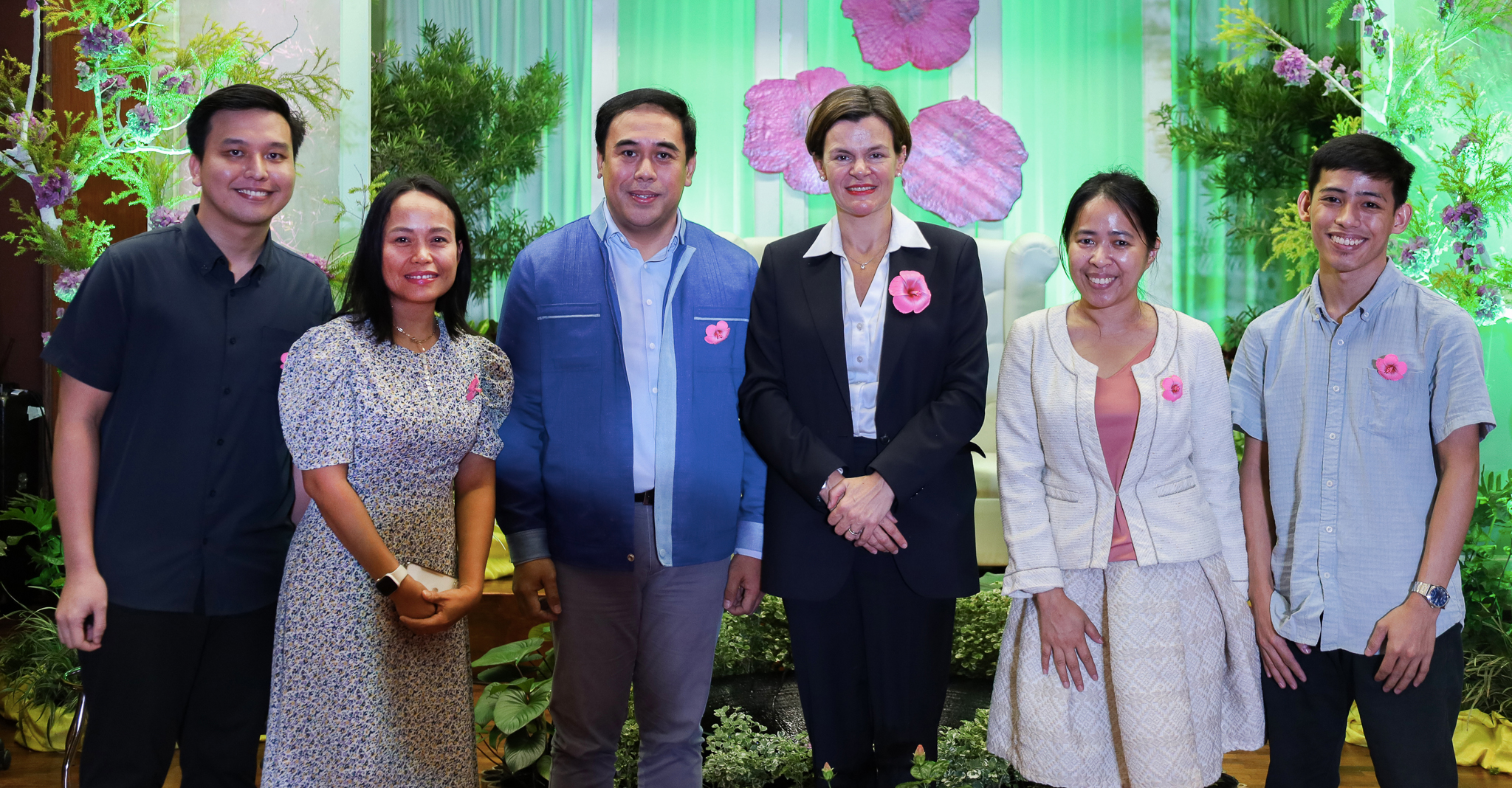 Development of hibiscus hybrids
The IPB project team, led by Dr. Maria Luisa D. Guevara, aims to develop a new garden type of H. rosa-sinensis through conventional hybridization and embryo rescue.
In addition to 'Laure Beaufils,' two selections are currently being propagated by IPB for submission to the National Seed Industry Council (NSIC). The team has reported that these selections have already been registered with the Germplasm and Technology Release and Registered Office (GTRRO) of IPB.
Furthermore, the IPB hybridization efforts have yielded five promising progenies currently being evaluated and selected for IPB-GTRRO registration.
The project is also producing interspecific hybrid plants of various Hibiscus species, resulting in 32 seedlings being grown in the nursery from different cross combinations.
Hibiscus is among the 11 priorities covered by the DOST-PCAARRD's Industry Strategic S&T Program (ISP) for Ornamental Plants. Through this program, the Council aims to promote the production of locally and globally competitive ornamental crops.