The Department of Science and Technology's Philippine Science High School System (DOST-PSHSS) is currently collaborating with the Philippine Council for Agriculture, Aquatic and Natural Resources Research and Development (DOST-PCAARRD) to develop  staff's technology transfer capacity. This is being done through the project, "Developing Technology Transfer Capacity of the Philippine Science High School System (PSHSS)."
DOST-PSHSS is the premier science high school in the Philippines where students are prepared for a career in science, technology, and mathematics (STEM).
The two-year project, under the leadership of Ms. Jodi Mylene Lopez, aims to enhance the intellectual property (IP) and technology transfer system among the 16 PSHS campuses and enhance its technology commercialization programs.
DOST-PSHSS Executive Director Lilia T. Habacon said that the project was proposed to DOST-PCAARRD as it was inspired by the System's vision to future-proof amidst the changing demands of the industry. At PSHSS, students are trained to develop a high aptitude in science and mathematics  and apply these skills in conducting research with results expected to benefit the general society. To better manage these research outputs, the project will conduct capacity-building activities and create a framework that will guide every campus to commercialize technologies developed by the students.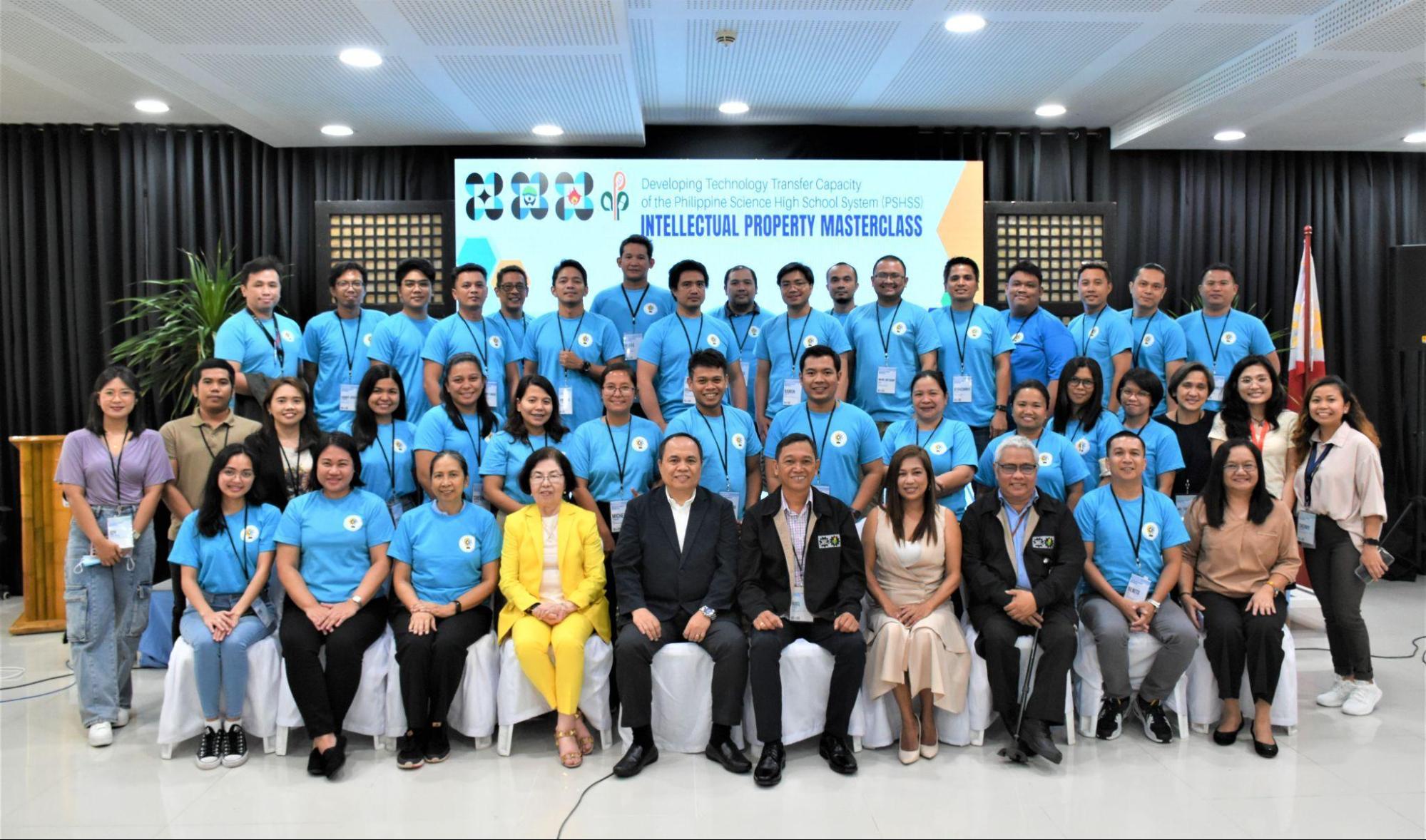 With this, a more holistic PSHSS that will empower the youth and science community to develop and commercialize world-class technologies, is expected.
 A project inception meeting was held on June 13, 2023 at the R.D. Guerrero III Room, DOST-PCAARRD Innovation and Technology Center (DPITC), Los Baños, Laguna to discuss the implementation plans and ensure the accomplishment of the project's goals and objectives. The meeting was attended by DOST Undersecretary for Scientific and Technical Services Maridon O. Sahagun, DOST-PCAARRD Executive Director Reynaldo V. Ebora, DOST-PSHSS Executive Director Lilia T. Habacon, DOST-PCAARRD Officer-in-Charge for Research and Development (R&D) Juanito T. Batalon, and Technology Transfer and Promotion Division (TTPD) Director Noel A. Catibog. Likewise, as the project's training services provider and partner, Association of PAQE Professionals (APP) President Misael F. Costes and Vice President Editha R. Hechanova also participated in the meeting.
Being the first training under the project, the DOST-PCAARRD Intellectual Property Master Class (IPMC) kicked off with the first module focused on the introduction to IP management, prior art search report, and invention spotting.
The five-module, 15-day DOST-PCAARRD IPMC was conducted from June to July 2023 via hybrid learning mode. Trainees used the research outputs of students from their respective campuses as training material during prior art search and claim drafting up to actual IP application. Moreover, the IPMC graduation ceremony was conducted on July 28, 2023 to mark its completion and to recognize the dedication and hard work of the trainees and the training provider  APP. The ceremony conferred 32 IPMC graduates and awarded the topnotchers of the mock exams with cash prizes worth P2,000 (Top 3), P3,000 (Top 2) and P5,000 (Top 1), by APP.
Topnotchers of the Chemical Patenting Mock Exam:
| | | |
| --- | --- | --- |
| Rank  | Name | PSHS Campus |
| Top 3 | Pelayre, Ann Fatima T. | Zamboanga Peninsula Region Campus |
| Top 2 | Bagasbas, Jefrey M. | SOCCSKSARGEN Region Campus |
| Top 1 | Estoque, Jesse Ronald M. | Eastern Visayas Campus |
Topnotchers of the Non-Chemical/Mechanical patenting Mock Exam:
| | | |
| --- | --- | --- |
| Rank | Name | PSHS Campus |
| Top 3 | Lonzaga, Ace L. | Southern Mindanao Campus |
| Top 2 | Casimiro, Jerile Mae E. | Ilocos Region Campus |
| Top 1 | Amorin, Marc Earl C. | Ilocos Region Campus |
This batch of IP Master Class graduates filed and drafted a total of 30 IP applications including 20 patents and 10 utility models. However, more than these numbers, Dr. Ebora emphasized that this comprehensive mentorship program equipped these aspiring patent agents with five P-I-S-A-Y important traits: 1.) Proficient communicators who are proficient in using words with a versatile communication style as translators of technology, business, and law; 2.) Investigative thinkers who find the best way to protect the technology; 3.) Steadfast or simply diligent; 4.) Analytical thinkers who are critical of data and evidence and comprehensive in processing legal, commercial, and scientific information; and 5.) With an 'eYe' for detail in preparing IP applications.
Dr. Ebora congratulated the graduates especially for being Proficient communicators, Investigative-thinkers, Steadfast, and Analytical thinkers with an eYe for detail or simply P-I-S-A-Y technology transfers agents.
The IPMC will be followed by the DOST-PCAARRD Technology Commercialization Mentorship Series (TCMS), which will focus on the strategies to promote and commercialize technologies generated by PSHSS. It will run from October to December 2023.