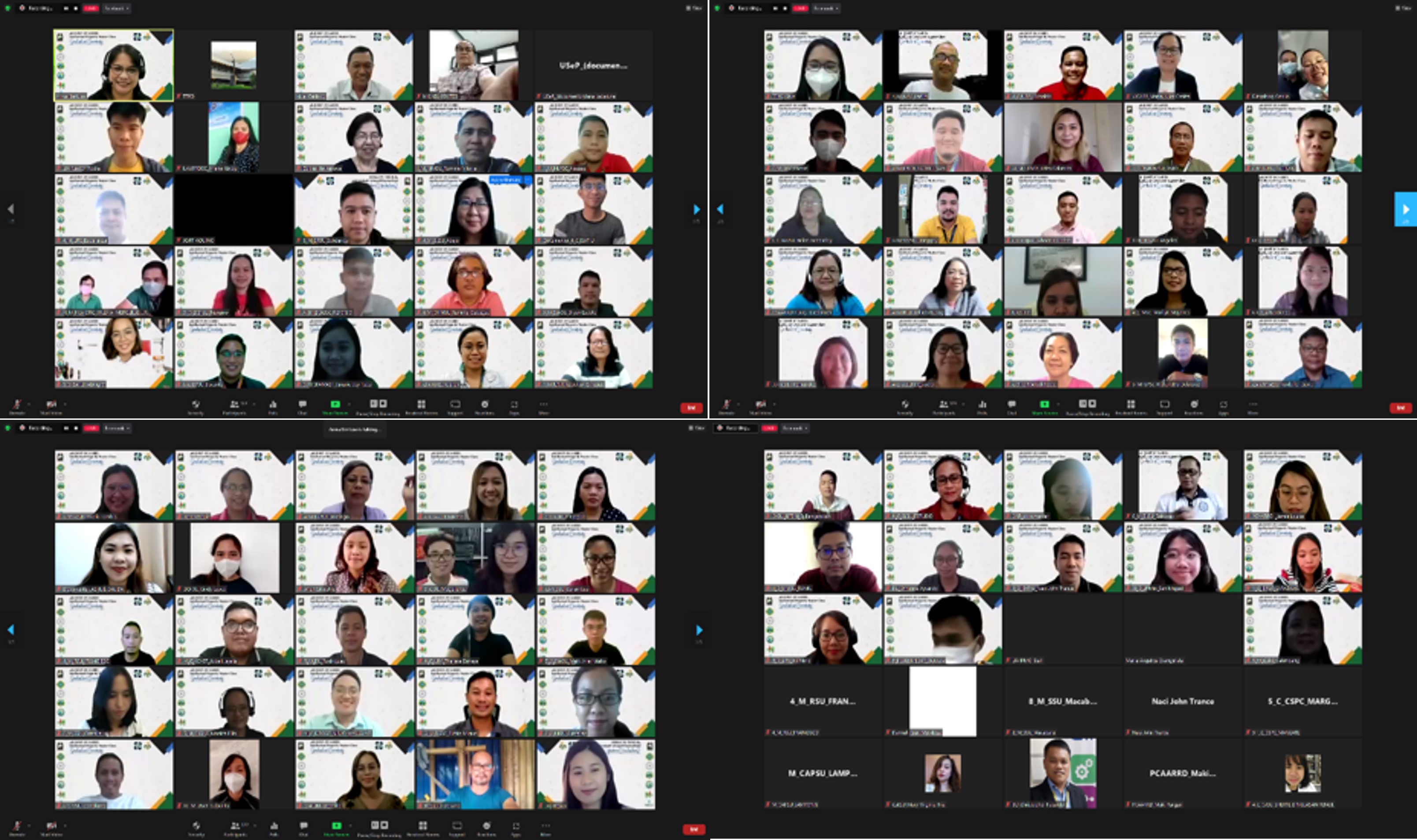 A total of 110 technology transfer officers from 54 state colleges and universities (SUCs) and research and development institutes (RDIs) across seven regions in the country were trained on Intellectual Property (IP) through the 4th Intellectual Property Master Class, held online.
The virtual graduation ceremony was held on May 27, 2022. This batch is considered the largest graduating class produced so far by the Philippine Council for Agriculture, Aquatic and Natural Resources Research and Development of the Department of Science and Technology (DOST-PCAARRD).
IP Masterclass is one of the major activities of the DOST-PCAARRD's Regional Agri-Aqua Innovation System Enhancement (RAISE) Program that aims to build and strengthen the capacities of the technology transfer officers and researchers on IP protection and management. The 54 participating SUCs and RDIs are from the Cordillera Administrative Region, Ilocos, Southern Tagalog, Bicol, Western Visayas, Eastern Visayas, and Southern Mindanao regions.
Operating on a much bigger scale, the Council hopes to ensure that as the investment on the program increase, multiple impacts will also be garnered to level up the agri-aqua innovation system. Aside from being the biggest batch of the IP Master Class graduates, the group filed a total of 61 patents and 88 Utility Models (UMs), against the target of 75 for 2022.
The virtual graduation ceremony recognized the performance of the program implementers and the graduates through the following awards:
Top IP Filer (Patent Category):Iloilo Science and Technology University (ISAT U) 
Top IP Filer (Utility Model Category): Benguet State University (BSU)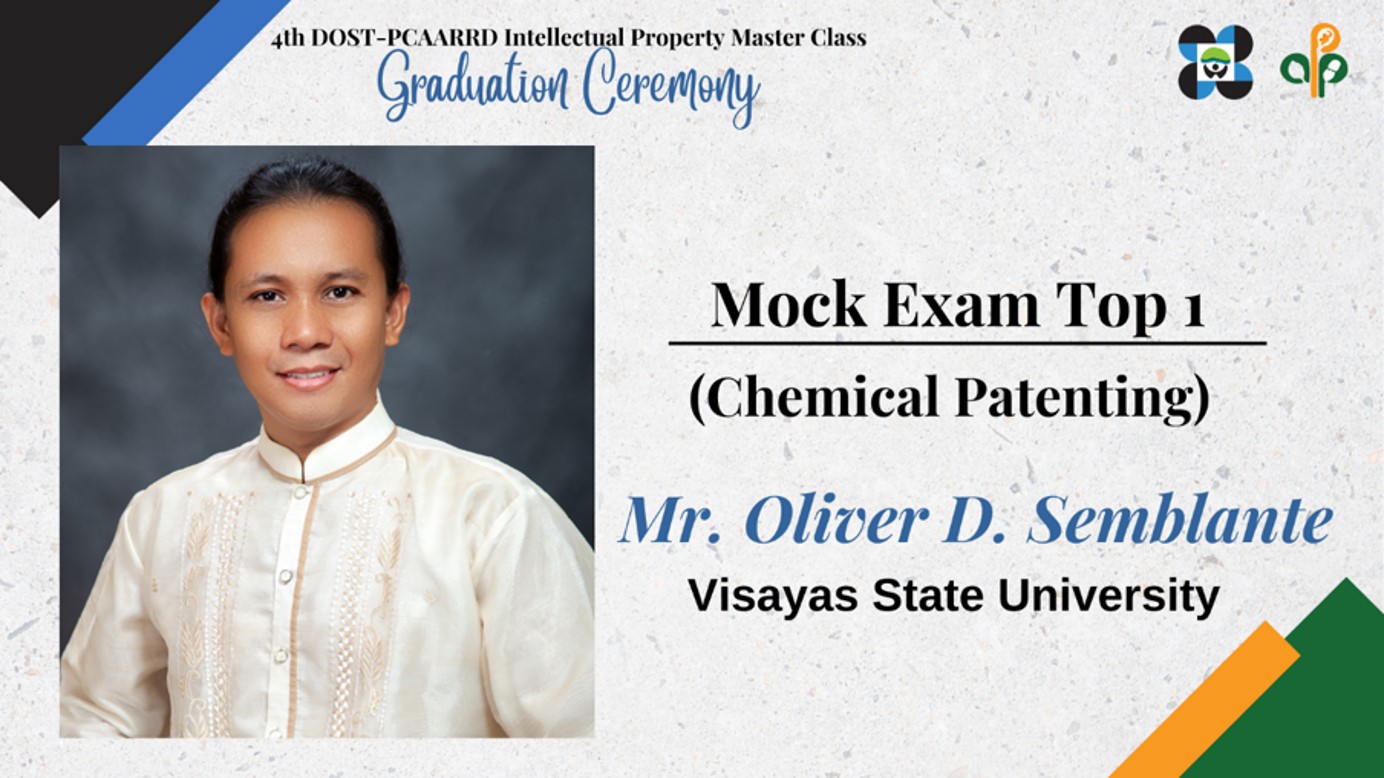 Mock Exam Topnotchers (Chemical Patenting):
1st Placer: Mr. Oliver D. Semblante (Visayas State University)
2nd Placer: Ms. Marilyn A. Mayores (Marinduque State College or MSC) and Mr. Rhian Jaymar Ramil (Mariano Marcos State University or MMSU)
3rd Placer: Ms. Wellisa M. Cammayo (Laguna State Polytechnic University)
4th Placer: Ms. Katrina S. Sarazawa (Ilocos Sur Polytechnic State College) and Ms. Jeremiah G. Magallanes (Bicol University)
5th Placer: Ms. Karen P. Sadia (Central Bicol State University of Agriculture or CBSUA)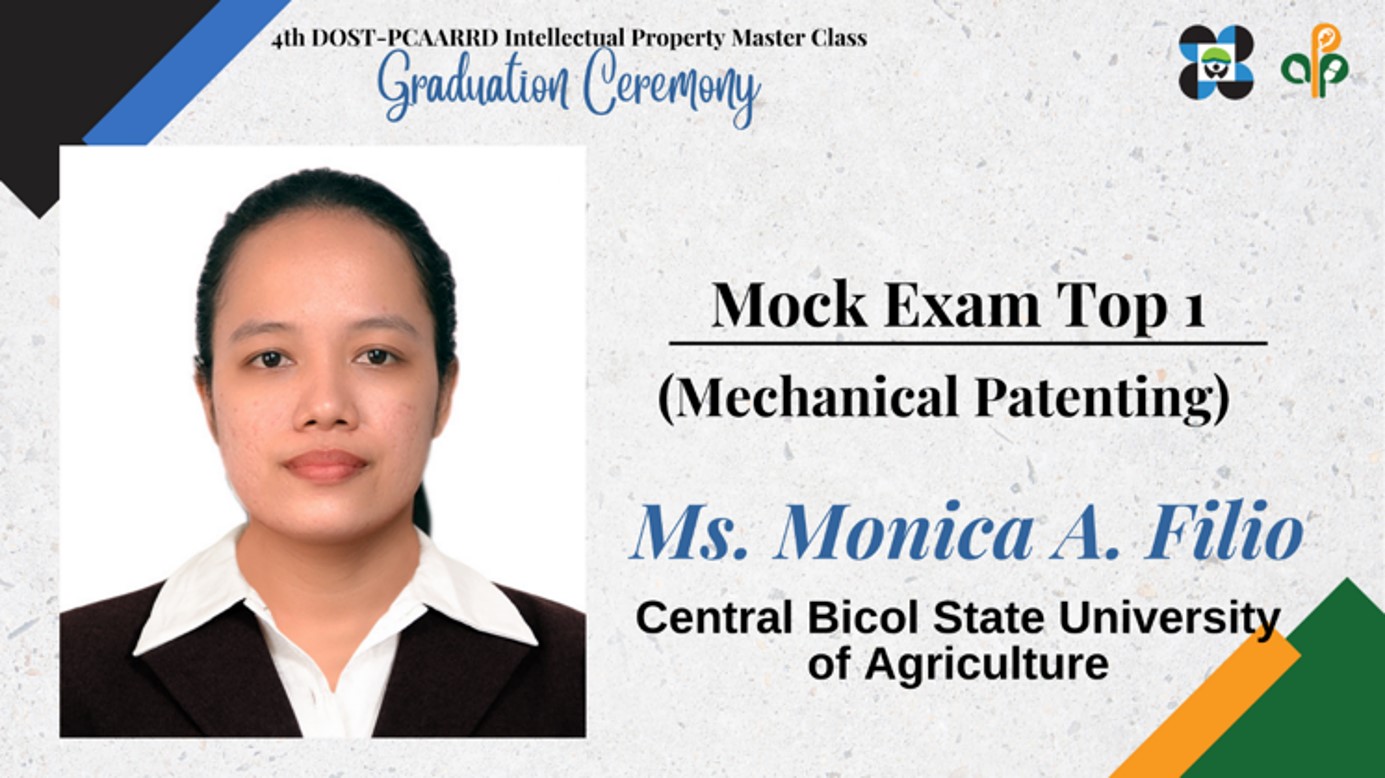 Mock Exam Topnotchers (Mechanical Patenting):
1st Placer: Ms. Monica A. Filio (CBSUA)
2nd Placer: Mr. Bryan E. Escoto (Sorsogon State University)
3rd Placer: Mr. Edgardo R. Laririt (MSC)
4th Placer: Mr. Jojit Aquino of University of Northern Philippines (UNP)
5th Placer: Mr. Redentor S. Rojas (UNP) and Mr. Rommel Villoria (MMSU)
DOST-PCAARRD's Executive Director, Dr. Reynaldo V. Ebora, expressed his gratitude to the Association of PAQE Professionals Inc. (APP), led by Atty. Editha R. Hechanova, for its commitment in partnering with the Council since the first batch, in developing and conducting the five-module masterclass spread out in five months.
Dr. Ebora is optimistic in his statement, "Despite the difficulties, we are confident that local inventions are properly protected and managed by competent technology transfer officers."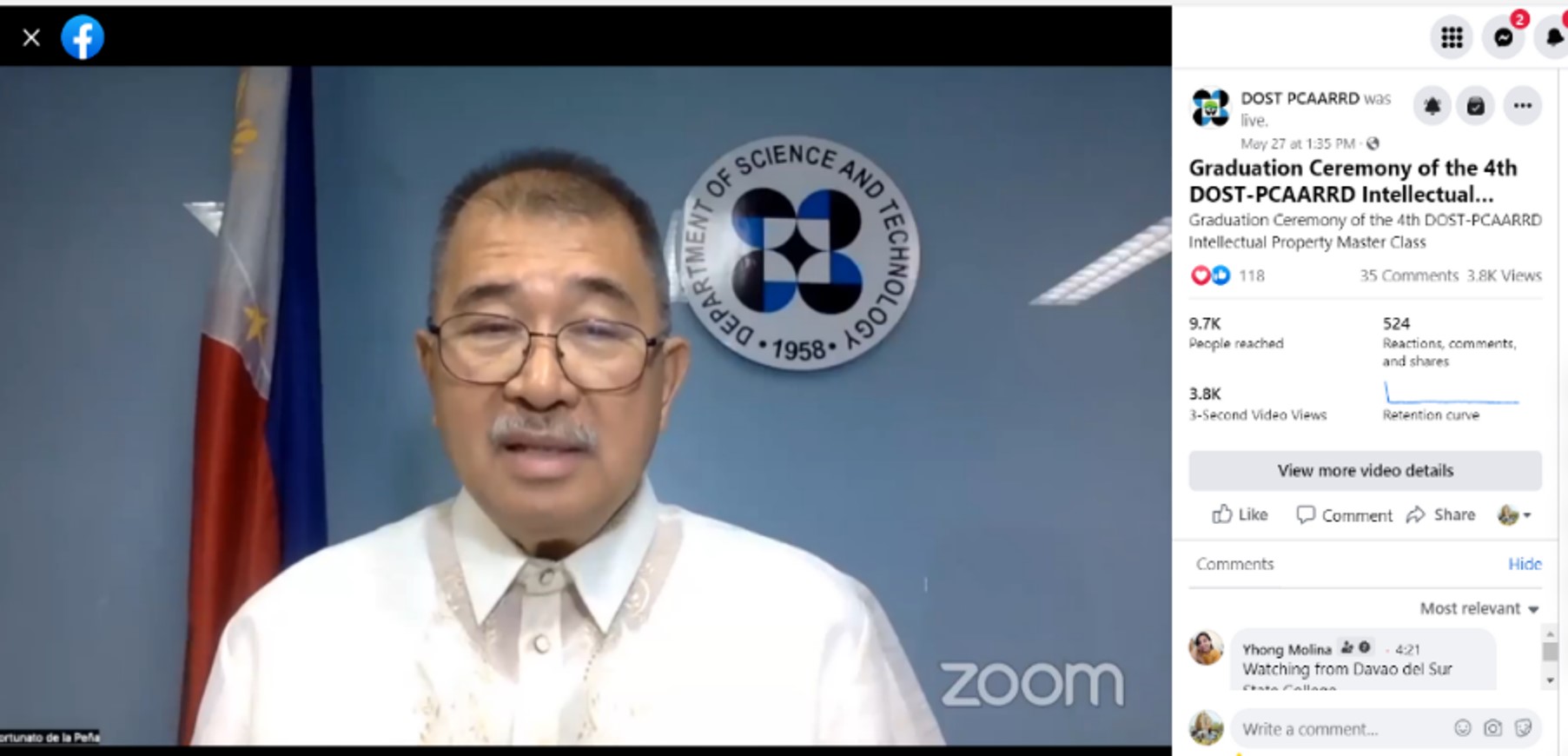 DOST Secretary Fortunato T. De La Peña reminded the graduates and stated that, "This graduation day marks the start of your journey as an IP advocate and in carrying out your mission to contribute to the success of the Regional Agri-Aqua Innovation System Enhancement Program."
The panel of speakers who greeted the graduates also include Director General of the Intellectual Property Office of the Philippines, Atty. Rowel S. Barba; DOST Undersecretary for R&D, Dr. Rowena Cristina L. Guevara; APP President, Atty. Editha R. Hechanova; Technology Transfer and Promotion Division Director, Mr. Noel A. Catibog; RAISE Regional Program Leaders: Dr. Ruth C. Diego (BSU); Dr. Dionisio S. Bucao (MMSU); Dr. Teddy F. Tepora (Cavite State University); Engr. Christopher O. Pacardo (BU); Dr. Efren L. Linan (Capiz State University); Dr. Maria Juliet C. Ceniza (VSU); and Engr. Filmann T. Simpao (University of Southeastern Philippines).
The event registered 130 attendees via Zoom and more than 100 viewers via Facebook Live. To date, the Council has produced 233 graduates under the DOST-PCAARRD IP Master Class Batches 1-4.