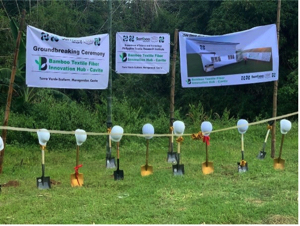 Maragondon, CAVITE – The Philippine Textile Research Institute of the Department of Science and Technology (DOST-PTRI) recently organized a groundbreaking ceremony for the construction of the Bamboo Textile Fiber Innovation Hub at Terra Verde Ecofarm.
This is part of the project, "Field verification of the Bamboo Textile Material Production and Treatment Technology" funded by DOST-Philippine Council for Agriculture, Aquatic and Natural Resources Research and Development (DOST-PCAARRD). The said project aims to verify the bamboo textile fiber extraction technology of PTRI in a pilot-scale community-based setting.
The bamboo fibers and fabrics that are available in the market are products from the regenerated cellulose process. The downside to this process, however, is the generation of toxic by-product gas, which poses a high risk to the people working in the manufacturing facility and pollutes the environment. This prompted the DOST-PTRI to develop more environment-friendly processes to extract bamboo textile fibers.
The PTRI-developed technology on the extraction of bamboo textile fibers not only provides diversification to bamboo utilization, but also provides more environment-friendly processes to extract bamboo textile fibers.
This project will verify the technology/data and economic figures on the mainstreaming of bamboo textile fiber extraction at the community level, particularly in the selected project sites: Terra Verde (Maragondon, Cavite) and Timpuyog ti Casilagan (Brgy. Casilagan, Naguillan, La Union).
With this project, it is hoped that bamboo's utilization for textile will not only mitigate environmental disasters, but will likewise uplift our local textile industry.