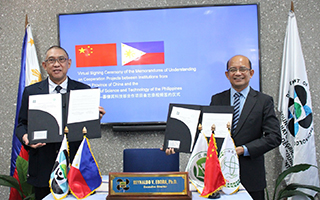 With the aim of establishing long-term and stable partnership among research institutes in the Philippines and in China, the Philippines, through the Department of Science and Technology (DOST)-Philippine Council for Agriculture, Aquatic and Natural Resources Research and Development (PCAARRD), inked a Memorandum of Understanding (MOU) with China's Jiangxi Academy of Forestry (JAF) and with the Jiangxi Academy of Agricultural Sciences (JxAAS). The virtual signing was done on September 6, 2021.
DOST-PCAARRD expressed its enthusiasm to have finally signed the collaboration agreements with its partners in China.
The MOU is a product of the efforts of the Philippines' DOST and China's Ministry of Science and Technology (MOST) that have been actively working together in identifying collaborative activities that will mutually benefit both agencies in bamboo postharvest processing and rice research. These areas of cooperation were identified during the 14th PH-China Joint Commission Meeting on Science and Technology (JCMST) in 2017, which was deemed as promising areas of cooperation for the revitalization of the existing biennial science and technology (S&T) platform between the two countries.
The fruitful relationship between the Republic of the Philippines and the People's Republic of China (PRC) began as early as 1978. This was reinforced through the Basic Agreement on Scientific and Technological Cooperation and through the Joint Commission Meetings where priority areas for collaboration were identified.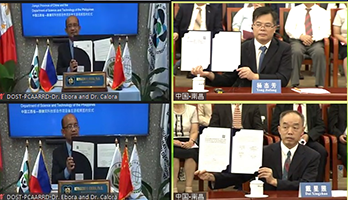 Since October 2016, the several state visits of President Rodrigo Roa Duterte to Beijing, China, reinvigorated the long-standing relationship between the two countries. President Duterte and Chinese President Xi Jinping, then, issued a joint statement emphasizing collaboration between the Philippines and China to "explore other areas of bilateral cooperation, including information technology (IT), health, customs cooperation, research and development (R&D), education, and other fields that will be mutually beneficial to both countries."
To effectively address these initiatives, DOST-PCAARRD and JAF agreed to collaborate on the following: (1) Establishing the Philippines-China joint laboratory on bamboo; (2) Research and technology promotion on advanced processing technology of bamboo resources; (3) Demonstration and showcasing of new technologies and products; and (4) Academic exchange, technical training, and capacity building services. JAF will be working with the Philippines' Forest Products Research and Development Institute of DOST (DOST-FPRDI) under this area of cooperation.
DOST-PCAARRD and JxAAS, on the other hand, planned to implement the following projects:
1. Adaptation trial and demonstration of green high-benefit and rice-fishery symbiotic farming models;
2. Rice breeding related to rice-fish farming;
3. Demonstration and showcase of relevant new technologies, products, models, and intelligent agriculture related to rice-fish farming;
4. Exchange visits of scientists, researchers, and S&T administrative staff; Policy consultations;
5. Technical trainings and hosting of thesis/dissertation studies;
6. Sharing of information resources related to the joint program; and
7. Other forms of cooperation that may be mutually agreed upon.

JxAAS will be implementing these proposed projects with DOST-PCAARRD's partners in the region-- the Philippine Rice Research Institute (PhilRice) and the Central Luzon State University (CLSU).
DOST Undersecretary (USec.) Rowena Cristina L. Guevara and Assistant Secretary (ASec.) Leah J. Buendia affirmed the Philippines and DOST's strong support and commitment to this revitalized partnership. DOST is looking forward to more partnership opportunities to be implemented with MOST and other Chinese agencies and institutions to enhance and demonstrate the value of robust international cooperation in addressing the unprecedented challenges of the COVID-19 pandemic.
"We hope to continue to build our partnership by providing adequate avenues for collaborative research and development, as well as other capacity building mechanisms and people-to-people exchanges. Likewise, we hope that as we move forward, we continuously see the value of collaborating and helping each other towards our areas of common interest in order to strengthen our evolving and growing scientific community," said Asec. Buendia in reference to the signed MOUs.
The MOU was signed by DOST-PCAARRD Executive Director Reynaldo Ebora, JAF President Yang Jiefang, and JxAAs President Dai Xingzhao.
Also present to witness the MOU signing ceremony are Ms. Elaine Mae Laruan-Hernandez from the Philippine Consulate General in Xiamen and DOST-PCAARRD's partners: DOST- FPRDI Director, Dr. Romulo Aggangan and Deputy Director Rico Cabangon; CLSU President Dr. Edgar Orden; and PhilRice Executive Director John de Leon, Officer-in-Charge (OIC) Deputy Executive Director for Research Eduardo Jimmy Quilang, and Supervising Science Research Specialist Myrna Malabayabas.