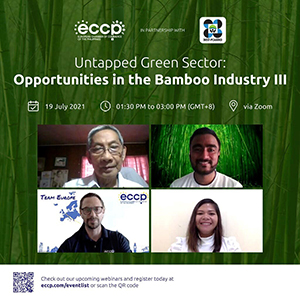 The Philippine Council for Agriculture, Aquatic, and Natural Resources Research and Development of the Department of Science and Technology (DOST-PCAARRD) and the European Chamber of Commerce of the Philippines (ECCP) Northern Mindanao support the government's call to strengthen the promotion of commercializing bamboo.
To tap the potential of the local bamboo industry, ECCP, in partnership with DOST-PCAARRD, held its final webinar installment in the Bamboo series, "Untapped Green Sector: Opportunities in the Bamboo Industry III" on July 19, 2021 via Zoom.
Researchers, LGU and private institution representatives attended the webinar. The featured guest speakers were Dr. Florentino Tesoro, President of the Philippine Bamboo Society of Advocates, Inc. (PBSAI) and Mr. Jishu Basak, Data Scientist of Code Ninja Co. and Machine Learning Engineer.
Tesoro discussed the predominant bamboo species found in the Philippines and its viability as a business. He gave an overview of the ecological requirements of bamboo and a brief profile of various species that are commonly used for commercial purposes such as Kawayan Tinik, Giant Bamboo, and Bolo, among others. The use of bamboo in the construction, music and art industry, as well as its importance in producing food and medicine, were discussed by Tesoro. He also highlighted the role of bamboo in rehabilitating and restoring critical watersheds in the country.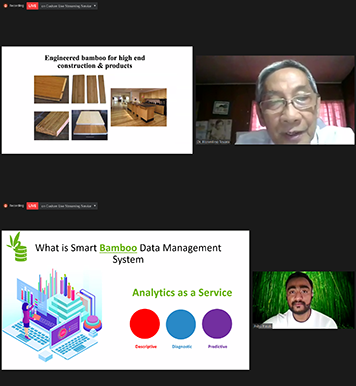 Focusing on the Smart Bamboo Data Management System (SBDMS), Basak underscored the crucial function of digital transformation and artificial intelligence in achieving higher productivity and a more sustainable bamboo value chain. He discussed the different features of the SBDMS including databases of the farm managers, economy, bamboo species, geography of bamboo plantations, investors, and market. Basak also highlighted the potential benefits of farm managers, investors, government, and universities from using the SBDMS. Moreover, he concluded the presentation with the SBDMS roadmap, where the first beta launching of the system is targeted in the first quarter of 2022.
The virtual webinar served as a venue for exchanging perspectives and insights among different bamboo stakeholders. The strategic support of DOST-PCAARRD to ECCP supports the Council's priorities and programs of the Forestry Research and Development agenda under the Harmonized National Research and Development Agenda in the agriculture, aquatic, and natural resources sector.
DOST-PCAARRD has been providing augmentation funds to qualified professional/scientific and academic organizations that pursue activities in support of the Council's advocacies, banner programs, and goals.