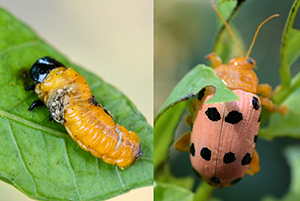 A team of researchers from the Department of Agriculture (DA) gets a funding support from the Philippine Council for Agriculture, Aquatic and Natural Resources Research and Development of the Department of Science and Technology (DOST-PCAARRD) to develop strategies in controlling the sineguelas leaf beetle or SLB (Podontia quatuordecimpunctata (L.)) in Batangas City.
SLB is an emerging pest of sineguelas that devastated the fruit farms in San Miguel, Batangas City—the largest producer of sineguelas fruits in Batangas and the whole of Luzon.
A total of 343 sineguelas farmers in 12 barangays, with approximately 15,791 trees were directly affected by the SLB infestation. A yield loss of about 70% was reported by majority of the farmers.
Its threat as an invasive species to other fruit trees like cashew and mango calls for immediate studies on the use of integrated pest management (IPM) strategies to mitigate the pest population.
The new project will be implemented by DA-attached agencies: Regional Crop Protection Center (RCPC) Regional Field Office IVA and Bureau of Plant Industry-Los Baños National Crop Research, Development and Production Support Center (BPI-LBNCRDPSC).
Led by Dr. Orlando A. Calcetas of DA-RFO IVA, the team will study the biology and ecology of SLB and its population dynamics with their natural enemies; establish the host range of the pest; determine the efficacy of different botanical pesticides, green and white muscardine fungi, and baculoviruses, and different insecticides on adults and larvae of SLB; and evaluate the efficiency of different chemical and organic concoctions, virgin females and pheromone technology as attractant to adult SLB.
The project will be implemented for two years and is expected to produce a package of technology for the control and management of SLB including efficient cultural management practices, chemical, and biological control strategies.
The project was officially launched during an inception meeting organized by the Crops Research Division of DOST-PCAARRD, led by its Director Dr. Edna A. Anit, Program Development Head Ms. Maria Adelia C. Belen, M&E Head Mr. Allan B. Siano, and Commodity Specialist for Minor Fruits Ms. Ma. Cecilia S. Alaban.