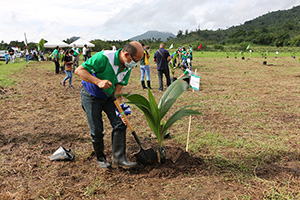 The Department of Science and Technology (DOST), through the Philippine Council for Agriculture, Aquatic and Natural Resources Research and Development (DOST-PCAARRD) in partnership with the Philippine Coconut Authority (PCA) of the Department of Agriculture (DA), launched three technologies on the production and planting of high-yielding coconut planting materials during the National Coconut Planting Day.
As part of the DOST 20 in 2020, the National Coconut Planting Day is part of the identified 20 innovative technologies being funded by DOST and implemented by its partner agencies and institutes, that can make impacts in the lives of the Filipino people and can push the country to attain socio-economic growth and development.
The event featured the coconut hybridization program, macapuno embryo culture technology, and coconut somatic embryogenesis technology (CSet).
CSet is a mass propagation protocol using plumular tissues of high-yielding tall, dwarf, and hybrid varieties of coconut. The project recorded a multiplication rate approximated at 200 to 300 plantlets per plumule, on responsive varieties. This presents a stark contrast and obvious improvement against "one seedling per nut" in the conventional propagation system.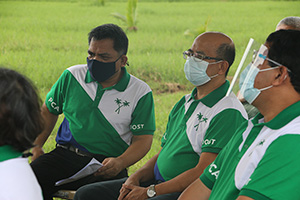 CSet is being implemented by DOST-PCAARRD's partner institutions, PCA-Albay Research Center, PCA-Zamboanga Research Center, UP Los Baños, UP Mindanao, Bicol University College of Agriculture and Forestry (BUCAF), and Visayas State University (VSU).
The coconut hybridization program, on the other hand, established hybridization farms in several coconut growing areas in CALABARZON. This will also provide S&T-based performance assessment of the mother palms of the hybrids in diverse ecological conditions.
Coconut planting materials which are estimated to cover about 500,000 hectares of the Philippines' agricultural land was produced from the collaborative efforts of DOST-PCAARRD and PCA.
The synchronized planting was done in Regions 1, CALABARZON, MIMAROPA, 5, 6, 7, 8, 9, 10, 11, 12, 13, and Bangsamoro Autonomous Region in Muslim Mindanao (BARMM).
A ceremonial coconut planting was also held at the Institute of Plant Breeding of the University of the Philippines Los Baños (IPB-UPLB) on December 8, 2020. The varieties planted were the PCA 15-10 hybrid (Tacunan Dwarf x Laguna Tall) and Laguna Tall produced through CSet.
The ceremony was facilitated by Dr. Edna A. Anit, Crops Research Division Director of DOST-PCAARRD; while Dr. Rodel G. Maghirang, IPB UPLB Director and Dr. Jose V. Camacho, Jr., UPLB Chancellor delivered their messages. Other attendees were PCA Administrator Benjamin R. Madrigal, Jr., DOST CALABARZON Regional Director Alexander R. Madrigal, DA Undersecretary Evelyn G. Laviña, Former DA Undersecretary Cristino M. Collado, DA-PCA Deputy Administrator for Research and Development Erlene C. Manohar, and National Scientist Emil Q. Javier.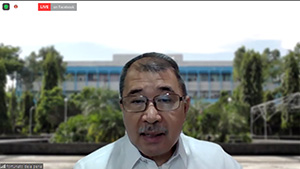 A virtual program was also conducted to officially kick off the National Coconut Planting Day with the theme, "Modern Technologies: Key to Coconut Productivity."
"I am happy that we have many collaborations with PCA including this initiative, VCO trials in Santa Rosa, Laguna, the project with DOST CALABARZON on macapuno, among others," said DOST Secretary Fortunato T. de la Peña in his message.
"DOST will continue to provide support to the national coconut industry in terms of developing technologies derived from R&D," de la Peña added. He also emphasized the importance of rolling out locally developed technologies to ensure that the farming communities will benefit from them.
DA Undersecretary Laviña delivered a message on behalf of DA Secretary William D. Dar. She highlighted the current efforts of DA, through PCA, toward "masaganang ani at mataas na kita (abundant harvest and high income)."

Senate Committee Chairperson on Agriculture and Food Senator Cynthia A. Villar delivered the keynote message. She shared the approval of Senate Bill No. 1396 or the "Coconut Farmers and Industry Trust Fund Act," which mandates the government to sell P75 billion of coconut levy assets in the next five years to create the trust fund to be used for the benefit of the coconut industry.