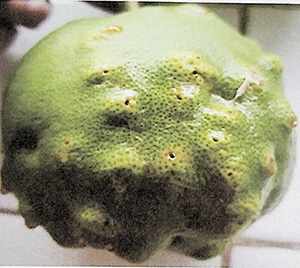 A non-chemical and non-hazardous method of controlling citrus rind borer (CRB) in Satsuma mandarin, has been developed through the funding of the Philippine Council for Agriculture, Aquatic and Natural Resources Research and Development (PCAARRD), an agency of the Department of Science and Technology (DOST).
The method reduced yield loss of Satsuma mandarin due to CRB, from 75% to 87% to just 5%. CRB is an insect pest that burrows into the fruit's rind and flesh, and causes internal rot resulting in an inedible fruit.
To increase yield and control the insect pest, the Nueva Vizcaya State University (NVSU) used entomopathogenic fungi (EPF), CRB's natural enemy, as biocontrol agent. The use of biocontrol agents reduces use of synthetic insecticides, which are harmful to human health and the environment.
Two patents on solid and liquid formulations of the bioinsecticide EPF against CRB were already filed.
Use of EPF to control CRB
EPF significantly reduced the development of lumps in Satsuma mandarin. Lumps are signs of CRB burrowing into the fruit rind. Infestation of CRB in EPF-treated trees only ranged from 14% to 18%. This means that up to 86% of fruits without lumps were achieved.
Chlorpyrifos, a synthetic insecticide, was used to compare the effectiveness of EPF. Upon application, the presence of lumps was still recorded at 26.75%. This indicates that the Satsuma mandarin tree has developed insecticide resistance. This is an important problem in the country's citrus industry.
The EPF-treated trees produced 11.8 t/ha to 11.95 t/ha fruits and yield of 43 kg/tree to 43.75 kg/tree.
The highest potential yield recorded of a six-year-old Satsuma mandarin cultivar is 12.9 t/ha, which was achieved through the application of Chlorpyrifos. This indicates that the use of EPF is comparable with the results from using a synthetic insecticide.
Controlling CRB in other citrus fruits
Aside from controlling CRB in Satsuma mandarin, EPF may also be used to control CRB in calamansi in MIMAROPA and Red Chandler Pummelo in Davao City.
To study the efficacy of EPF in controlling CRB in calamansi, NVSU will collaborate with the Mindoro State College of Agriculture and Technology (MinSCAT). Meanwhile, to determine how EPF can decrease lumps on pummelo rind, NVSU will collaborate with the Southern Mindanao Agriculture, Aquatic and Natural Resources Research and Development Consortium (SMAARRDEC). Pummelo is one of Davao City's top fruit produce.
The project, "Harnessing Entomopathogenic Fungi (EPF) for the Control of Citrus Rind Borer (CRB) (Prays endolemma Diakonoff) on Satsuma Mandarin (Citrus unshiu)," is one of the finalists of the National Symposium of Agriculture, Aquatic, and Natural Resources (NSAARRD) research category.
NVSU implemented the project, in cooperation with the Department of Agriculture Regional Field Office 2 (DA-RFO2), Cagayan Valley Agriculture, Aquatic and Resources Research and Development (CVAARRD), DA-Nueva Vizcaya Experiment Station (DA-NVES), and the provincial and municipal local government unit of the province.
Spearheaded by DOST-PCAARRD, NSAARRD recognizes the outstanding contributions of individuals and institutions in improving the state of research and development (R&D) in the country.
DOST-PCAARRD will celebrate its anniversary virtually in December 2020, where it will recognize the outstanding efforts of its partners through NSAARRD.