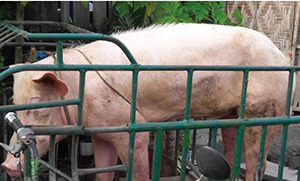 Control and eradication strategies against Classical Swine Fever (CSF) in Mindanao is enhanced through a government project.
A Central Mindanao University (CMU) project identified risk factors on commercial and backyard pigs acquiring CSF as well as the knowledge, attitudes, and practices (KAP) of Mindanao farmers on CSF and its control. Both information are vital in controlling and eradicating CSF, a highly infectious and fatal disease among pigs and wild boars.
Also known as hog cholera, CSF causes high fever, anorexia, and transient constipation followed by diarrhea, conjunctivitis, vomiting, skin hemorrhages, and neurological disorders such as incoordination, paralysis, and convulsions. Death occurs five days after classical signs manifest in the pigs.
CSF is endemic in the Philippines and has caused several serious outbreaks, particularly in 2007, when more than 5,000 heads of pigs were affected in Luzon; and in 2008-2009 when a large outbreak was reported in Mindanao.
The disease also causes huge economic losses and is a known threat to the country's largest livestock enterprise – the swine industry.
Results of the study
According to CMU, understanding the disease through the project is essential in developing effective control and eradication strategies against it.
Of the five regions in Mindanao, Region IX or western Mindanao showed the highest CSF seroprevalence or the level of specific antibodies against CSF in the population. This means that the said region is more likely to harbor CSF virus antibodies, which indicate exposure of the pigs to the virus or a vaccine. Meanwhile, backyard pigs in Region XII or southern Mindanao recorded the lowest seroprevalence.
The following risk factors for CSF in Mindanao were also identified:
1. Use of common traveling service boars;
2. History of pigs with disease that manifest as weakness and anorexia;
3. Swill (leftover) feeding;
4. Contact with other animal species;
5. Contact with other pigs;
6. Non-isolation of sick pigs;
7. Cleaning frequency (weekly or longer);
8. Dry cleaning of pens;
9. Tethering or no pens;
10. Farmer's inexperience; and
11. No quarantine management.
Pig farmers in Mindanao are aware of CSF but unaware of the risk factors. Practices and attitudes of the farmers, however, are favorable for the control of the disease in Mindanao.
CMU says the findings will serve as guide to enhance the government's initiatives to control and eradicate CSF in Mindanao.
Collaborative meetings are now being conducted with the Bureau of Animal Industry of the Department of Agriculture (DA-BAI) and various stakeholders to improve strategies against the disease.
The project, "Classical Swine Fever (CSF) Surveillance in Mindanao towards its Control and Eradication," is funded by the Philippine Council for Agriculture, Aquatic and Natural Resources Research and Development (PCAARRD) of the Department of Science and Technology (DOST).
Led by Dr. Alan P. Dargantes and Dr. Jose A. Escarlos, Jr. of the College of Veterinary Medicine and College of Education of CMU, the project is one of the finalists of the National Symposium of Agriculture, Aquatic, and Natural Resources (NSAARRD) research category.
NSAARRD is spearheaded by DOST-PCAARRD and will be held as one of the highlight activities during DOST-PCAARRD anniversary celebration.
DOST-PCAARRD will celebrate its anniversary virtually in December 2020, where it will recognize the outstanding efforts of its partners through NSAARRD.