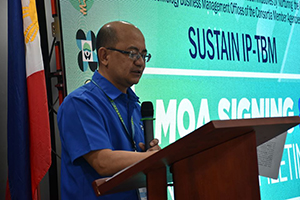 The Philippine Council for Agriculture, Aquatic and Natural Resources Research and Development of the Department of Science and Technology (DOST-PCAARRD) recently held a memorandum of agreement (MOA) signing with 30 participating state universities and colleges (SUCs) under the program, "Support to the University's Strategies in Technology Acceleration Initiatives by Nurturing the Intellectual Property and Technology Business Management Offices of the Consortia Member Agencies - Phase 2 or SUSTAIN IP-TBM."
Held on January 30, 2020 at the DOST-PCAARRD Innovation and Technology Center (DPITC), the signing reinforces the Council's aim to intensify technology commercialization activities by strengthening the capacities of selected SUCs under the IP-TBM program Batches 1 and 2.
SUSTAIN IP-TBM involves five mentor-agencies and 25 mentee-agencies across the Ilocos, Southern Tagalog, Bicol, Western Visayas, and Southern Mindanao regions with Cavite State University (CvSU) as the overall program coordinator. The program will also collaborate with the Association of PAQE Professionals (APP) and the Intellectual Property Office of the Philippines (IPOPHL).
"Sustaining our initiatives on intellectual property and technology business management is imperative as the program hopes to further contribute in sustaining our upward trend in the commercialization of agri-aqua innovations in the Philippines," said Dr. Reynaldo V. Ebora, PCAARRD Executive Director.
Ebora also mentioned that SUSTAIN IP-TBM Phase 2 will deal with the challenges of sustaining IP-TBM's initial efforts in protecting, managing, and commercializing intellectual properties. He added that the program will implement a mentor-mentee regional approach, which will involve five mentor-agencies— whose Project Leaders have embraced the responsibility of mentoring the IP-TBM offices of the 25 participating consortia member mentee-agencies under them. This undertaking was one of the clear examples of PCAARRD's battle cry during last year's anniversary - PCAARRD in the Regions: addressing regional needs through sustained partnership.
Launched in 2017, IP-TBMs are technology transfer offices that are envisioned to mirror the initiatives of DPITC, which serves as a one-stop hub for technology owners and generators, investors, end-users, and other stakeholders within the agriculture, aquatic, and natural resources (AANR) innovation system. The first batch of this program started with a total of 10 agencies and was followed by another batch composed of 16 agencies.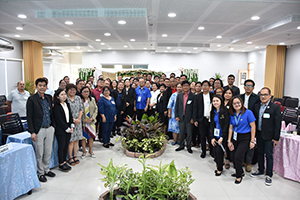 The combined accomplishments of the IP-TBM program Batches 1 and 2 (2018-2019) resulted in 121 trained technology transfer officers under the 12-module DOST-PCAARRD Intellectual Property Master Class and Technology Commercialization Mentorship Series. With the skills gained from the program, both batches exceeded their targeted outputs and have so far facilitated the following intellectual property (IP) applications: 90 patents, 348 utility models, 43 industrial designs, 31 trademarks, and 433 copyrights.
The first and second DOST-PCAARRD Technology Pitch Days conducted in 2018 and 2019 have pitched 54 agri-aqua technologies and attended by almost 200 officials, technology generators, technology transfer officers, potential collaborators and industry partners from SUCs and Research and Development Institutes (RDIs).
The IP-TBM program has also conducted IP audits and reviews wherein 10 out of the 26 revised institutional IP policies and technology transfer protocols have already been approved by the respective Board of Regents (BOR) of the SUCs.
The MOA signing was attended by SUC presidents, consortium directors, officials, and staff of the following participating agencies under the six project components of the program:
Project 2. Ilocos Agriculture, Aquatic and Natural Resources Research and Development Consortium (ILAARRDEC)
Mariano Marcos State University (MMSU),
Don Mariano Marcos Memorial State University (DMMMSU),
Ilocos Sur Polytechnic State College (ISPSC),
North Luzon Philippines State College (NLPSC),
Pangasinan State University (PSU), and
University of Northern Philippines (UNP)
Project 1 and 3. Southern Tagalog Agriculture, Aquatic and Resources Research, Development and Extension Consortium (STAARRDEC)
Cavite State University (CvSU),
Southern Luzon State University (SLSU),
University of Rizal System (URS),
Marinduque State College (MSC),
Batangas State University (BatStateU), and
Rizal Technological University (RTU).
Project 4. Bicol Consortium for Agriculture, Aquatic and Natural Resources Research and Development (BCAARRD)
Bicol University (BU),
Camarines Norte State College (CNSC),
Camarines Sur Polytechnic College (CSPC),
Sorsogon State College (SSC),
Catanduanes State University (CatSU), and
Central Bicol State University for Agriculture (CBSUA).
Project 5. Western Visayas Agriculture, Aquatic and Natural Resources Research and Development Consortium (WESVARRDEC)
Capiz State University (CapSU),
Aklan State University (ASU),
University of Antique (UA),
Guimaras State College (GSC),
Northern Iloilo Polytechnic State College (NIPSC), and
Central Philippines State University (CPSU).
Project 6. Southern Mindanao Agriculture, Aquatic and Natural Resources Research and Development Consortium (SMAARRDEC)
University of Southeastern Philippines (USeP),
University of the Philippines Mindanao (UP Mindanao),
Davao del Norte State College (DNSC),
Davao Oriental College of Science and Technology (DOSCST),
Davao del Sur State College (DSSC), and
Compostela Valley State College (CVSC).
Atty. Editha R. Hechanova, APP President; Dr. Melvin B. Carlos, DOST-PCAARRD Deputy Executive Director for Administration, Resource Management and Support Services; Dr. Juanito T. Batalon, DOST-PCAARRD Officer-in-Charge for R&D; and Mr. Noel A. Catibog, Officer-in-Charge of the Technology Transfer and Promotion Division (TTPD) of DOST-PCAARRD were also present during the event.