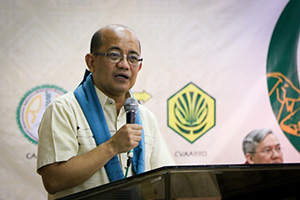 DAVAO CITY – As a response to the increasing demand for halal products, an event in Davao City promoted the products and protocols of halal goat developed from research and development initiatives of government agencies and state universities.
The event, the Farms and Industry Encounters through the Science and Technology Agenda (FIESTA) on Halal Goat, was held at the University of Southeastern Philippines (USeP), Davao City on October 16-17, 2019.
The demand for halal products are not only prompted by Muslims, as non-Muslims have taken interest in these products, which should be safe, clean, and wholesome as mandated under the Islamic law. This was expressed by Dr. Reynaldo V. Ebora, Executive Director of the Philippine Council for Agriculture, Aquatic and Natural Resources Research and Development of the Department of Science and Technology (DOST-PCAARRD).
"Our country has indicated its readiness to join this lucrative market of halal products, with the creation of Halal Board under the Philippines' Halal Export Development and Promotion Act of 2016," Ebora said.
Norhaida M. Lumaan, Region XI Director of the National Commission of Muslim Filipinos (NCMF), also cited the "huge market" of the halal industry that entrepreneurs can tap.
Halal is Arabic for lawful and permissible under the Islamic law. It also stands for safe, clean, and wholesome products that even non-Muslims can partake.
Although not popular in the mainstream market, goat is a popular choice when choosing Qurbani or "sacrifice" during Islamic religious events such as Eid'l Fitr and Eid'l Adha, furthered Ebora. Compared with cattle, buffalo, or sheep, which can also be offered as sacrifice, goat is a more affordable option.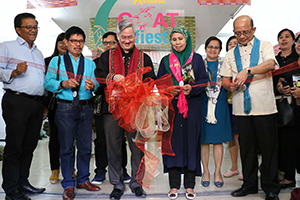 "In the scientific perspective, goat is the perfect meat as it is a healthier alternative to chicken, beef, pork, and lamb. It has lower calories, saturated fat, and cholesterol but has high potassium and iron. Goat's milk contains smaller, well-emulsified fat globules that makes it easier to digest compared with cow's milk. These information, among others, make goat embody the essence of halal: safe, clean, and wholesome," expressed Ebora.
In terms of research and development, PCAARRD has invested ₱29 million for halal goat over the past nine years. This year, it has approved and funded the ₱35-million program, Niche Centers in the Regions for R&D or NICER – Halal Goat Science and Innovation Center that will run until 2022.
Ebora also provided an overview of the accomplishments of PCAARRD over the past nine years. These include protocols on halal goat production, transport & marketing, slaughtering, chevon processing, and laboratory-based haram detection. These protocols underscored the importance of identifying critical control points from production to post-production, where haram contamination occurs to correct practices of Muslim raisers and give them a better share in the trade of halal goats.
Haram is "forbidden" in Islamic law.
Despite these advancements in research and development, Lumaan still wanted to challenge the public sector in promoting the halal industry, especially goat. "Product developers of halal should be sincere in their work, otherwise, the work will be worthless," she expressed.
Halal Goat FIESTA was jointly implemented by PCAARRD's five Consortia in the regions: Cotabato Agriculture, Aquatic and Resources Research and Development Consortium (CAARRDEC) in Region XII; Southern Mindanao Agriculture, Aquatic and Natural Resources Research and Development Consortium (SMAARRDEC) in Region XI; Central Luzon Agriculture, Aquatic and Resources Research and Development Consortium (CLAARRDEC) in Region III; Cagayan Valley Agriculture, Aquatic and Resources Research and Development Consortium (CVAARRD) in Region II; and Ilocos Agriculture, Aquatic and Natural Resources Research and Development Consortium (ILAARRDEC) in Region I.
The FIESTA featured a business forum where technologies developed for halal goat will be pitched to potential investors; a cooking demonstration by the President of Chef Logro's Institute of Culinary and Kitchen Services (CLICKS), Pablo "Boy" Logro; technology forum, and contests highlighting halal goat commodity such as goat jingle, bleating, forage identification, body weight estimation, and quiz bowl contests.
FIESTA is conceptualized by PCAARRD as a technology promotion and transfer platform aimed at promoting products if S&T as competitive and profitable business ventures for the micro, small, and medium enterprises (MSMEs) in the agriculture, aquatic, and natural resources sector.