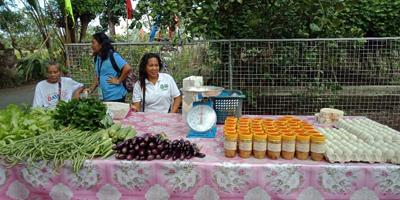 A science and technology model farm (STMF) in Victoria, Tarlac exhibited innovations in rice production that can be adopted by farmers. 
The Masalasa Marketing Cooperative's STMF was a product of the project, "STMF on Integrated Rice and Rice-Based Package of Technologies (POT)." It was funded by the Philippine Council for Agriculture, Aquatic and Natural Resources Research and Development of the Department of Science and Technology (DOST-PCAARRD). 
In a recently conducted Farmers' Field Day and Forum, the Masalasa Marketing Cooperative provided updates and insights on its adoption of S&T technologies and its overall performance. Specifically, the cooperative exhibited different technology components such as rice-fish, rice-duck, small pond, tilapia pond, orchard, sorjan area, vegetable garden, azolla production, seedling production area, mushroom processing area, vermicomposting facility, rice straw soaking area, goat/swine area, mushroom fruiting house, and rice seed production area.
Moreover, Gerry Garcia, a farmer cooperator of the cooperative, showcased his variety of crops, a pig pen, and a tilapia fishpond in farm. 
The project aimed to maximize the productivity and income of Magsasaka Siyentista and farmer cooperators by applying the full package of technologies for the target commodities. It also helped develop or widen linkages of farmer cooperators for postharvest and marketing activities.
Four major rice component technologies were addressed by the project. These include the use of quality seeds of recommended varieties; site-specific nutrient management; water management/controlled irrigation; and integrated pest management. The project also included a component on agripreneurship.
The Philippine Rice Research Institute (PhilRice) implemented the project in cooperation with the Central Luzon Agriculture, Aquatic and Resources Research and Development Consortium (CLAARRDEC), Department of Agriculture (DA) attached agencies in Region 3, Department of Trade and Industry (DTI), and Local Government Unit (LGU) – Victoria, Tarlac. Thirty-three farmer beneficiaries under the Masalasa Marketing Cooperative in Victoria, Tarlac registered with the Cooperative Development Authority (CDA). They were identified as the recipients of the three-year project.