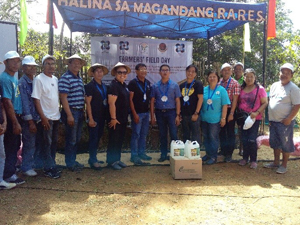 TANAY, Rizal – A farmers' field day held recently in Cayumbay, Tanay, Rizal showcased the benefits of the carrageenan plant growth promoter (PGP) on rice. 
The activity was part of the project titled, "Field Verification Testing of Carrageenan Plant Growth Promoter (PGP) for Enhanced Growth and Induced Pest and Disease Resistance in Rice." 
The Carrageenan PGP for Rice Farmers' Field Day is one of the collaborative technology projects of the Department of Agriculture (DA), Department of Science and Technology (DOST), and the Philippine Council for Agriculture, Aquatic and Natural Resources Research and Development (DOST-PCAARRD).
Held at the DA – Rizal Agricultural Research Experimental Station (DA-RARES) in Cayumbay, Tanay, Rizal, the activity was participated by the project team from DA, DOST, DOST-PCAARRD, DOST-Philippine Nuclear Research Institute (DOST-PNRI), National Crop Protection Center of the University of the Philippines Los Baños (NCPC-UPLB), and farmers from the municipalities of Tanay, Pililia, and Jalajala, Rizal. 
Headlining the event were DA Regional Field Office CALABARZON Regional Executive Director Arnel V. de Mesa; DA Regional Technical Director for Research and Regulations Engr. Elmer T. Ferry; DOST CALABARZON Regional Director Alexander R. Madrigal; DOST Rizal Provincial S&T Director Fernando E. Ablaza; DOST-PNRI Atomic Research Division Chief Dr. Lucille V. Abad; and DOST-PCAARRD Senior Science Research Specialist Angelito T. Carpio.
Farmer cooperators shared to the participants their experience with the technology. Marissa Finuliar, a farmer cooperator from Pililia, Rizal, reported 75% increase in yield obtained in her field after using Carrageenan PGP during 2018 wet season. The rice plants also exhibited stronger stems, longer roots, healthier tillers, and longer panicles, resulting in higher yields at lower input costs. Pest incidence was generally low in rice fields applied with Carrageenan PGP.  Finuliar hoped to get even better yield in the coming dry season.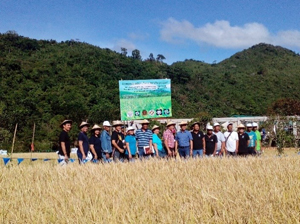 Engr. Ferry expressed his appreciation to the entire project team for implementing the project, which is expected to enhance rice production and improve farmers' income. Meanwhile, Carpio explained how the project came about and its importance in boosting rice production in the country and in helping farmers' livelihood.
 Dr. Abad, on the other hand, discussed the development of Carrageenan technology through research at DOST-PNRI, the efficacy of the product in rice farming, and its eventual commercialization. 
Madrigal encouraged the farmers to believe in the technology as it would not only help their livelihood but the local economy as well, in the long run. This was seconded by de Mesa as he assured the farmers of DA's support in the use and promotion of the Carrageenan PGP.