The Philippine Council for Agriculture, Aquatic and Natural Resources Research and Development of the Department of Science and Technology's (DOST-PCAARRD) Acting Deputy Executive Director for R&D Edwin C. Villar was recently inducted by the Career Executive Service Board (CESB) during the 45th anniversary of the Career Executive Service (CES). 
Dr. Villar was inducted along with 32 other new CES Eligibles. During the program, the eligibles pledged to become exemplary models of integrity, service, and excellence as well as live by the ideals of the CES. CESB Chairperson Alicia dela Rosa-Bala officiated the oath-taking.
To be a CES eligible, applicants should undergo and pass the written examination, assessment, performance validation, and board interview.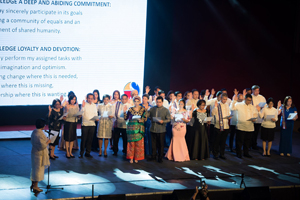 A former Director of the PCAARRD-Livestock Research Division (LRD), Dr. Villar was appointed as Acting Deputy Executive Director for R&D on October 1, 2015. He took his oath with former DOST Secretary Mario G. Montejo during the Governing Council meeting. 
As the Acting Deputy Executive Director for R&D of the Council, Dr. Villar is tasked to provide direction in program planning; formulation and monitoring of the implementation of R&D plans and programs; strategically enhance linkages between R&D and R&D results utilization; administer programming, allocation, and releases of funds of R&D; and uphold the morale, discipline, and the development of a highly motivated and cooperative well-coordinated technical research workforce. 
Held on November 10, 2018 at the Philippine International Convention Center (PICC), Pasay City, CES 45th Anniversary had the theme, "Celebrating the Power of Service."