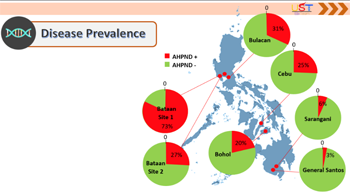 The University of Santo Tomas (UST) has developed a technology to detect acute hepatopancreatic necrosis disease (AHPND) or early mortality syndrome (EMS) in shrimp.
The project titled, "Pathobiology and Development of Molecular Detection Kit for EMS/AHPND causing bacteria," is funded by the Philippine Council for Agriculture, Aquatic and Natural Resources Research and Development of the Department of Science and Technology (DOST-PCAARRD).
AHPND is caused by Vibrio parahaemolyticus, a pervasive bacterium that thrives in marine waters. This disease causes lethargy, an empty stomach, a pale hepatopancreas, and an empty midgut. AHPND has caused major economic loss in cultured shrimp production in China, Vietnam, Malaysia, Thailand, Mexico, and the Philippines. 
In the Philippines, the disease is detected in Bataan, Bulacan, Cebu, Bohol, Sarangani, and General Santos. In one site in Bataan, 73% of farms were found positive with AHPND.
The technology addresses the need of Filipino shrimp farmers for a diagnostic testing kit that provides results instantly as outsourced diagnostics are not time-efficient. Moreover, available test products are expensive, have low accuracy, and are difficult to use. 
Currently, the Philippines has a diagnostic tool for white syndrome shrimp virus (WSSV), Juan Amplification JAmp ® Detection kit. 
To detect AHPND, a prototype diagnostic kit and heat block using loop mediated isothermal amplification (LAMP) was produced and tested. The special polymerase allows amplification within an hour at one temperature. The technology is easy to set up, use, and is also cost-efficient as it only costs P300 per test.
Compared with a wide array of detection methods in the market, LAMP is more advantageous in terms of cost, field applicability, visual detection, and ease of operation. 
In terms of results, LAMP is 10 times more highly sensitive compared with polymerase chain reaction (PCR). LAMP detected the AHPND-causing bacteria, V. parahaemolyticus at 10-2 dilution, while PCR only detected the bacteria until 10-1 dilution.