Two projects on banana and mango funded by the Australian Centre for International Agricultural Research (ACIAR) and the Philippine Council for Agriculture, Aquatic and Natural Resources Research and Development of the Department of Science and Technology (DOST-PCAARRD) are expected to support the fruit industry in the country. 
Identified as priority commodities in the Harmonized National R&D Agenda (HNRDA) for 2017-2022 and DOST-PCAARRD's Industry Strategic S&T Program (ISP), banana and mango are among the fruit crops being studied under the "ACIAR-PCAARRD Horticulture Program on Fruits and Vegetables." 
Titled "Integrated management of Fusarium wilt (FW) of bananas in the Philippines and Australia," the project aimed to reduce the impacts of FW and improve the productivity and viability of banana plantations managed by smallholders. 
The accomplishments of the project include the identification of mesh wire boot as the most effective scrub in removing soil to limit the spread of disease inoculum; report on the economic feasibility of growing 'Giant Cavendish' tissue-culture variant (GCTCV) 218 in Foc infested area; and the conduct of the Mindanao-wide banana symposium participated by 140 banana growers and Agricultural Extension Workers (AEWs). 
The second project titled, "Research and development of integrated crop management for mango production in the southern Philippines and Australia" intended to reduce product losses due to pests and diseases, decrease inputs costs, and improve quality and yield of mango to increase growers' profit. 
The project's accomplishments include the identification of parasitoids as potential natural enemies of cecid fly; demonstration and training on canopy management in Davao Occidental and Davao del Sur; and the conduct of a national survey on "best practices" in nine major mango growing areas in the country.
In a message, Dr. Jocelyn E. Eusebio, Director of the Crops Research Division (CRD) of DOST-PCAARRD, expressed the Council's commitment to support ACIAR in its future R&D activities on banana and mango.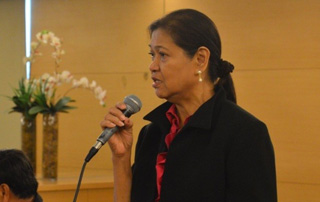 Accomplishments for the two-year duration of the projects were presented during the end-of-project review held in Cebu City by implementing agencies, the University of Southern Mindanao (USM), University of Southeastern Philippines (USeP), Southern Philippines Agri-business and Marine and Aquatic School of Technology (SPAMAST), and Provincial Agriculturists Offices of Davao del Norte and Davao del Sur. 
Dr. Bob Williams from the Department of Employment, Economic Development and Innovation (DEEDI), Queensland and Dr. Avelino D. Raymundo, Professor Emeritus from the University of the Philippines Los Baños (UPLB) served as the external reviewers. 
Dr. Richard Markham, ACIAR Horticulture Research Program Manager, emphasized in his message that research has to be done in the spirit of enquiry and exploration. He added that it could also sometimes mean taking risks and making mistakes. 
Banana expert Dr. Agustin Molina Jr. also attended the review and recommended scientists to provide science-based information and policies to policy makers in order to help advance the banana industry.