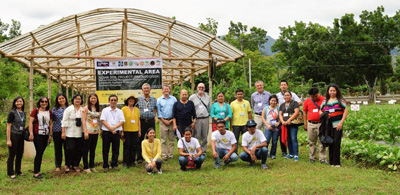 Vegetable productivity in most parts of southern Philippines is hampered by low nutrient availability in the soil. Overapplication of mineral fertilizers and application of unbalanced nutrients are also major concerns in vegetable production. These fertilizer use practices take a large share of the total cost of production inputs.
A project has been addressing these concerns through research activities that  have been ongoing since 2014.
Titled, "Soil and nutrient management strategies for sustainable vegetable production in southern Philippines," the project compares the productive capacity, soil fertility, and economics of conventional, organic, and protected vegetable production systems in southern Philippines. Initiatives are also in place to identify key soil and nutritional constraints to vegetable production. 
The project is funded by the Australian Center for International Agricultural Research (ACIAR) and co-monitored by the Department of Science and Technology-Philippine Council for Agriculture, Aquatic and Natural Resources Research and Development (DOST-PCAARRD). 
The project is being implemented by researchers from the Visayas State University (VSU), Bureau of Soils and Water Management, University of the Philippines Los Baños, and Landcare Foundation of the Philippines, Inc. in partnership with the University of Queensland and Queensland Department of Agriculture, Fisheries and Forestry. It is  focused on priority areas of Leyte, Northern Mindanao, and Bohol and selected vegetable crops including tomato, bell pepper, eggplant, squash, and cabbage.
The project has identified the optimal rates of nitrogen that can be applied  in peppers and eggplant for conventional production. In the organic production system, it has also determined the optimal rates of chicken dung that can be applied,  with eggplant as test species. These findings will aid in assessing the economics of organic and conventional vegetable production systems and will contribute in maximizing yield.
Changes in soil fertility under conventional, protected cropping, and organic systems are also being observed. Nutrient schedules (budgets) along with nitrogen and phosphorus levels in conventional and protected cropping systems are being compared in experiments. Findings will be used to develop improved and targeted site-specific nutrient management strategies. 
Through the project, key constraints in vegetable production systems have also been identified through surveys in Leyte, Claveria, Bukidnon, Bohol, and Samar. Interviews with 91 vegetable farmers from said areas confirmed that poor soil fertility is perceived as a major constraint and main driver in overapplication of fertilizers which unnecessarily raises input cost.
As part of the project's capacity building efforts, ten Filipino project team members were trained in Australia. The training included laboratory-based studies and covered field experimental sites, commercial farming operations, and landscape production issues. Twenty-five farmer-cooperators from Samar, Leyte, and Bohol also underwent a training on "Soil fertility assessment for improved crop nutrient management in vegetable production," which was led by Landcare Foundation Philippines, Inc. in partnership with Visayas State University (VSU).
The team seeks to develop, publish, and disseminate soil and nutrient management strategies and materials for profitable smallholder vegetable production by the end of its implementation in 2018.
These efforts, among many others, are expected to contribute in reducing input costs of farmers and increasing crop yield. 
Project activities are aligned with the main goal of the program, "ACIAR-PCAARRD Horticulture Program on Fruits and Vegetables Phase 2," to improve food security and livelihood of farmers in southern Philippines, with the soils project being one of its ten components.