The Department of Agriculture Regional Field Office 9 (DA-RFO 9) recently conducted the Natural Rubber Technology Forum in Sanito, Ipil, Zamboanga Sibugay.
The forum aims to present R&D highlights of recently concluded projects supported by the Philippine Council for Agriculture, Aquatic, and Natural Resources Research and Development (PCAARRD) and the Philippine Council for Industry, Energy and Emerging Technology Research and Development (PCIEERD), both under the Department of Science and Technology (DOST).
More than 150 rubber farmers, nursery operators and processors from various parts of Luzon and Mindanao attended the event.
Overwhelmed by the strong investment support of the R&D and Extension Cluster to the Rubber Industry, the Philippine Rubber Technical Working Group (Phl Rubber TWG) called for the immediate sharing of the technologies already available for extension to the rubber industry stakeholders.
Researchers and scientists from the DA-RFO 9, University of Southern Mindanao (USM), Sultan Kudarat State University (SKSU), De La Salle University (DLSU), Forest Products Research and Development Institute (FPRDI), DOST Region 9, and Provincial S&T Office of Zamboanga Sibugay shared their research results and S&T and investment support services during the forum.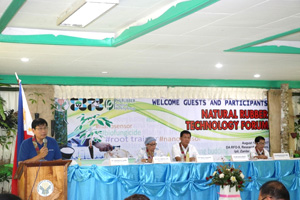 Some of the technologies and S&T services topics presented during the forum include:
• Rubber-based Agroforestry System for Smallhold Rubber Farmers: USM Model (presented by Dr. Romulo Cena, USM)
• Evolution of Rubber Nursery Production Technologies (presented by Engr. Roger Bagaforo, DA-RFO 9)
• Planting Materials Quality Determination through DNA Fingerprinting Technology (presented by Dr. Emma Sales, USM)
• SKSU' Effective Microorganisms (EMs) as Biofungicide against Phytophthora Disease and as Biofertilizer in Rubber Nurseries (Dr. Ma. Lyn Calub, SKSU)
• New Guidelines in Rubber Budwood/Nursery Accreditation System (Dr. Romulo Cena, USM)
• DOST's S&T and Investment Support to the Rubber Industry (Engr. Melanie Temonio, DOST 9 Provincial S&T Office, Zamboanga Sibugay)
• Latex Harvesting Technology: Current Tapping Regulation (Mr. Ernie Camacho, DA-RFO 9)
• Nanosensor for the Detection of Battery Solution and other Adulterants in Raw Rubber Products (DLSU)
• Innovation System in Rubber Crumb Production: The PPRPC Case (Engr. Belen Bisana, FPRDI)
• DOST's Rubber Quality Testing S&T Services (Ms. Rosemarie Salazar, DOST 9)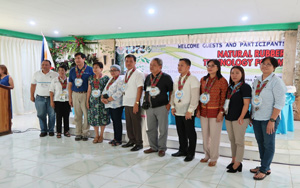 The event was organized by DA-RFO 9, with additional financial support from DOST-PCAARRD and DOST-PCIEERD. The Department of Trade and Industry 9 (DTI 9), Jose Rizal Memorial State University (JRMSU), Western Mindanao Agriculture and Aquatic Resources Research and Development Consortium (WESMAARRDEC), and local government units of Zamboanga Peninsula also provided logistical support during the forum.
The forum also served as a venue for the rubber farmers, rubber nursery operators and processors, state universities and colleges, and local government units to present the various issues, problems and gaps in the entire supply/value chain of rubber – from the planting materials production to the marketing support, including the potential solutions. Thus, the forum hopes to enlighten our rubber stakeholders with the S&T services being extended by DOST, especially DOST 9's Rubber Testing Center and the DOST Provincial S&T Center's support to the local industry not only for Zamboanga Sibugay, but also in other different communities all over the country.