PHOTO RELEASE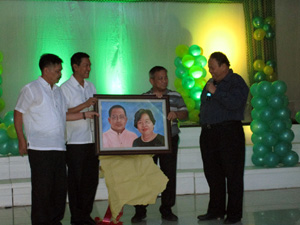 Dr. Danilo C. Cardenas (third from the left), Deputy Executive Director for Administration, Resource Management and Support Services (ARMSS), of the Philippine Council for Agriculture, Aquatic and Natural Resources Research and Development of the Department of Science and Technology (DOST-PCAARRD), was honored by the Visayas Consortium for Agriculture, Aquatic and Resources Program (ViCAARP) for his valuable contributions to the consortium's agri-aqua research and development endeavors.

After many years of fruitful and dedicated service to DOST-PCAARRD and the National Agriculture, Aquatic Resources and Research Development Network (NAARRDN), Dr. Cardenas is due to retire in September this year.
Handling to Dr. Cardenas a painting of him and his wife, as a token of gratitude, are Dr. Othello B. Capuno (leftmost), Vice President for Research and Extension of the Visayas State University (VSU) and ViCAARP's Consortium Director; Dr. Edgardo E. Tulin (second from right), VSU President and Chair of ViCAARP's Regional Research and Development Committee (RRDCC); and Dr. Jose L. Bacusno (rightmost), former VSU President. This was during the FIESTA on Jackfruit at Iba Pa, which is one of the major highlights of VSU's 93rd Anniversary Celebration.

As one of the Council's key persons in terms of strengthening research and development initiatives in the NAARRDN, Dr. Cardenas was formerly PCAARRD's Deputy Executive Director for R&D prior to his current position as Deputy Executive Director for ARMSS.