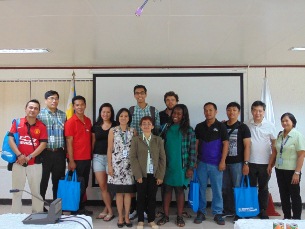 Graduate students from Stanford University visited the Philippine Council for Agriculture, Aquatic and Natural Resources Research and Development of the Department of Science and Technology (DOST-PCAARRD) to learn about mangrove crab production, particularly on soft-shelled crabs, and vermicomposting use and application.
The visit was arranged by the Tuason Development Foundation Program Manager Dickie Soriano, the country partner of Stanford University in implementing the Design for Extreme Affordability Program. The Stanford University students were Jade Fernandez, James Winter, and Jaou Touré. They were joined by the beneficiaries of the Tuason Development Foundation: Cromwell Cuizon, Ian Joune Fernandez, Xarex Gameng, and Roger Jude Garcia.
The Design for Extreme Affordability Program is a multidisciplinary, project-based course which allows students to design a program, immerse in various social issues and challenges in partner countries, and propose a project which offers real solutions.
DOST-PCAARRD Acting Deputy Executive Director Edwin Villar and Policy Coordination and Monitoring Division (PCMD) Director Leah Buendia welcomed the visitors while Agricultural Resources Management Research Division (ARMRD) Director Rodolfo Ilao presented the Council's Industry Strategic S&T program (ISP), its current programs and initiatives, and information on vermicomposting. On the other hand, DOST-PCAARRD Inland Aquatic Resources Research Division (IARRD) Director Dalisay Fernandez provided an orientation of the Council's programs and initiatives on inland aquatic resources, narrowing down on mangrove crab. Lastly, Technology Transfer and Promotion Division (TTPD) Director Melvin Carlos discussed the Council's various modalities for technology transfer.
Aside from the meeting, the students toured Arnold and Paz Organic Farm in Tranca, Bay, Laguna, to provide them a preview of vermicomposting production used in commercial-scale farming.