Root trainer technology to improve growth and development of rubber seedlings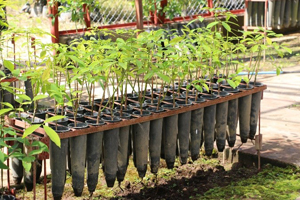 Rubber seedlings grown in root trainer containers develop 300% more lateral roots compared with rubber seedlings grown in conventional polybags. This results in faster growth and development of rubber quality planting materials.
The root trainer technology enhances the development of straight tap root and many root hairs allowing the rubber plant to withstand environmental stress after planting, resulting in high survival rate and uniformity in growth.